Woodstock Times (August 28, 2014, pg 4)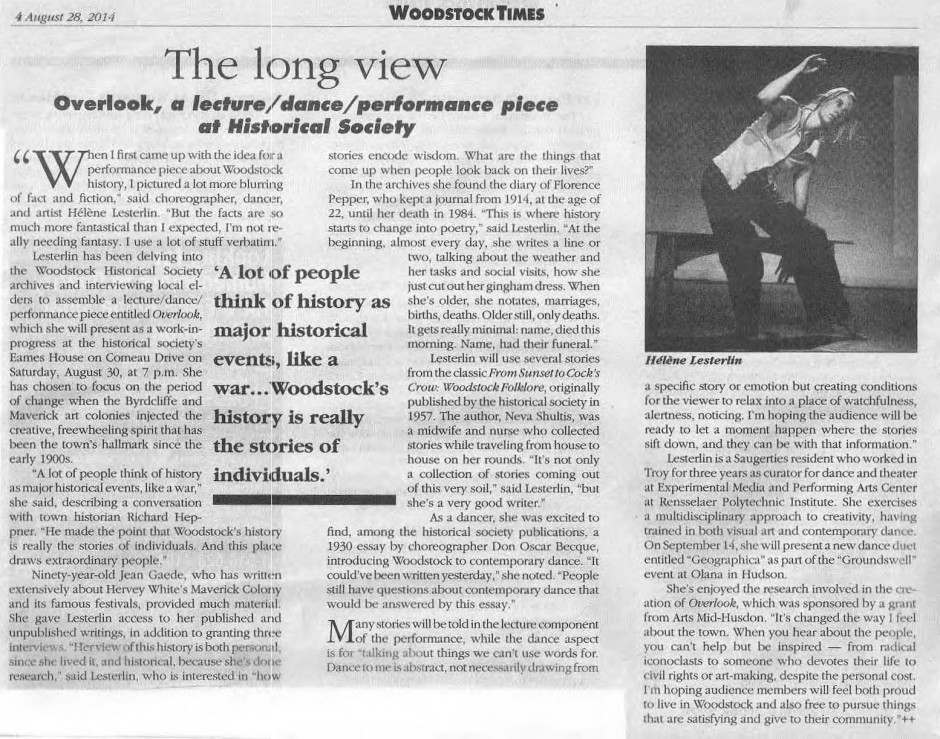 The long view: Overlook, a lecture/dance/performance piece at Historical Society by Violet Snow
"When I first came up with the idea for a performance piece about Woodstock history, I pictured a lot more blurring of fact and fiction," said choreographer, dancer, and artist Hélène Lesterlin. "But the facts are so much more fantastical than I expected, I'm not really needing fantasy. I use a lot of stuff verbatim."
Lesterlin has been delving into the Woodstock Historical Society archives and interviewing local eiders to assemble a lecture/dance/performance piece entitled Overlook, which she will present as a work-in-progress at the Historical Society's Eames House on Comeau Drive on Saturday, August 30, at 7 p.m. She has chosen to focus on the period of change when the Byrdcliffe and Maverick art colonies injected the creative, freewheeling spirit that has been the town's hallmark since the early 1900s.
"A lot of people think of history as major historical events, like a war," she said, describing a conversation with town historian Richard Heppner. "He made the point that Woodstock's history is really the stories of individuals. And this place draws extraordinary people."
Ninety-year-old Jean Gaede, who has written extensively about Hervey While's Maverick Colony and its famous festivals, provided much material. She gave Lesterlin access to her published and unpublished writings, in addition to granting three interviews. "Her view of this history is both personal, since she lived it, and historical because she's done research," said Lesterlin, who is interested in "how stories encode wisdom. What are the things that come up when people look back on their lives?"
In the archives she found the diary of Florence Pepper, who kept a journal from 1914, at the age of 22, until her death in 1984. "This is where history starts to change into poetry," said Lesterlin. "At the beginning, almost every day, she writes a line or two, talking about the weather and her tasks and social visits, how she just cut out her gingham dress. When she's older, she notes, marriages, births, deaths. Older still, only deaths. It gets really minimal: name, died this morning. Name, had their funeral."
Lesterlin will use several stories from the classic From Sunset to Cock's Crow: Woodstock Folklore, originally published by the Historical Society in 1957. The author, Neva Shultis, was a midwife and nurse who collected stories while traveling from house to house on her rounds. "It's not only a collection of stories coming out of this very soil," said Lesterlin, "but she's a very good writer."
As a dancer, she was excited to find, among the Historical Society publications, a 1930 essay by choreographer Don Oscar Becque, introducing Woodstock to contemporary dance. "It could've been written yesterday," she noted. "People still have questions about contemporary dance that would be answered by this essay."
Many stories will be told in the lecture component of the performance, while the dance aspect is for "talking about things we can't use words for. Dance to me is abstract, not necessarily drawing from a specific story or emotion but creating conditions for the viewer to relax into a place of watchfulness, alertness, noticing. I'm hoping the audience will be ready to let a moment happen where the stories sift down, and they can be with that information."
Lesterlin is a Saugerties resident who worked in Troy for three years [correction: seven years] as curator for dance and theater at Experimental Media and Performing Arts Center at Rensselaer Polytechnic Institute. She exercises a multidisciplinary approach to creativity, having trained in both visual art and contemporary dance. On September 14, she will present a new dance duet entitled Geographica as part of the "Groundswell" event al Olana in Hudson.
She's enjoyed the research involved in the creation of Overlook, which was sponsored by a grant from Arts Mid-Hudson. "It's changed the way I feel about the town. When you hear about the people, you can't help but be inspired – from radical iconoclasts to someone who devotes their life to civil rights or art-making, despite the personal cost. I'm hoping audience members will feel both proud to live in Woodstock and also free to pursue things that are satisfying and give to their community."++