PREMIERE: October 28 – 30, 2016 at the Byrdcliffe Theater in Woodstock, NY
An ancient beast epic, told by a trio of troubadours
with shadows, puppets, music and dance. 
With original music by singer-sonwriter Laura Brennemen, and hand-made puppets, faux-fur costumes, and intricate shadow screens by Anastacia Bolina and Hélène Lesterlin, this show is a welcome blast from a feral world of fables and pure instinct.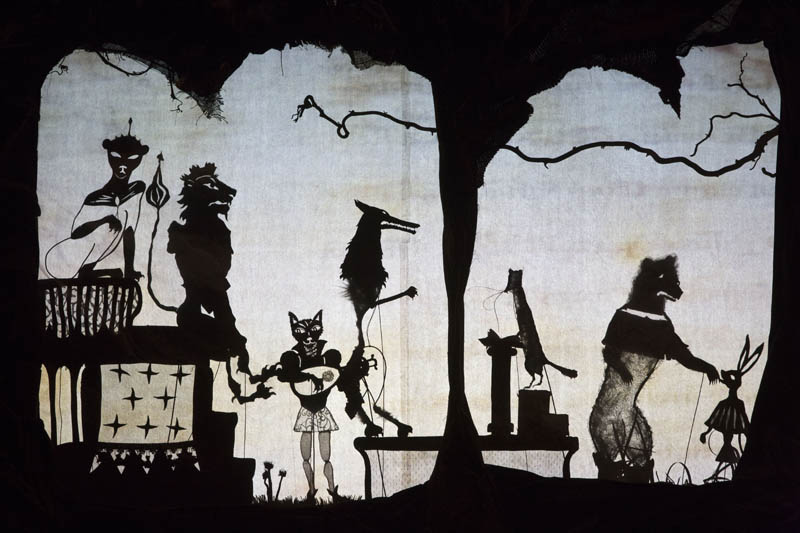 Reynard the Fox stands accused of murder, theft, adultery, sacrilege and excessive violence. Witness the court's unraveling as lust for revenge and grisly tales of woe overwhelm the official festivities. Careening from folk song to operatic satire to salacious tango, animal appetites dominate in this retelling of a medieval blockbuster.
"Fox vs Kingdom" is a satiric performance of puppet theater, based on the darkly funny escapades of Reynard the Fox, a medieval epic. Three medieval troubadours from Occitane alight in a tavern with their handmade show of song, puppetry, shadow dances and raucous storytelling. In this layered reimagining of a timeless tale, an outlaw fox confronts entrenched power, and uses his wits and charm to stoke the hunger that drives us all to break codes of conduct.
Photos from the premiere, by Annika Beaulieu
And check out our instagram feed to see puppets in progress!
FOX VS KINGDOM
CREDITS
Created and performed by Anastacia Bolina, Hélène Lesterlin, and Laura Brenneman
Written, choreographed and directed by Hélène Lesterlin
Puppets, costumes and sets by Anastacia Bolina and Hélène Lesterlin
Music and lyrics by Laura Brenneman
Lighting design by Scott Bolman
Production management and outside eye by Sharon Penz
Additional sound design and set construction by Todd Vos
Graphic design by Ramon Tejada
With snacks by chef Mor Pipman
Volunteer coordinator: Kathryn Meyer
Produced by Studio Reynard
Running time: 2 hours, including a 15min intermission
This is a production geared for adults, but kids over age 8 are welcome.
Café Isegrim is an ongoing series of dinner salons associated with this project.
FUNDING CREDITS
This project was made possible with the huge generosity of donors, volunteers and participants in Café Isegrim, as well as two grants from the Jim Henson Foundation: a Workshop Grant 2014-15 and a Production Grant 2015-16. It was also supported through a residency at Mount Tremper Arts (Shandakan, NY) and a residency/work in progress showing at Drop, Forge & Tool (Hudson, NY).
The first part of this project was developed and supported through the St. Ann's Warehouse Puppet Lab in New York City, October 2013 – May 2014, that culminated in a showing of the first 20 minutes of the piece as part of Labapalooza! Festival of New Puppet Theater.
The premier of this project is made possible with funds from the Decentralization Program, a regrant program of the New York State Council on the Arts with the support of Governor
Andrew Cuomo and the New York State Legislature and administered by Arts Mid-Hudson.
We are so grateful for the generosity of our donors, supporters and volunteers!
PATRON ($500-$600) Martha Burke-Hennessy, Pat O'Brien, Roland Lesterlin &
Clare Hawthorne
SUPPORTER ($100) Lekker (Stoneridge, NY), Garden Café of Woodstock, H. Houst & Son, Anonymous (2), Mathew Pokoik, Karen Vos, Sarah Mills-Napp, Ramon Tejada,
Carol Monteleoni
FRIEND ($50-$60) Kyra Himmelbaum, Martha Sherman, Mandolyn & Neil Rosen, Katharine Daugherty, Wendy Weinrich, Jeanie Mills, Jinhi Baron, Sara Forster,
Alice Goodman, Susan LaTour, Smokehouse of the Catskills
FAN (up to $49) Tetyana Samolyuk, Jenn Nelson, Alexandra Tekerian, Philip Andelman, Steve Morris, Amy Talluto, Heidi Sjursen, Allison Siegel, Joanna Rotkin, Allison Pale, Steve Proner, Leon Alirangues, Sage Carter, Rachel Lipson, JoAnn Margolis
VERY SPECIAL THANKS for your help: time, advice, rehearsal space, childcare, encouragement, sewing skills, media savvy, and love!
Todd Vos, Karen Vos, Martha Burke-Hennessy & Michael Belknap, Jeremy Bernstein, Ramon Tejada, Mor Pipman, Jillian Sweeney, Katharine Daugherty (Drop Forge and Tool), Mathew Pokoik (Mount Tremper Arts), Sage Carter, Pete and Nancy Caigan, Janet Dymond and the Woodstock Public Library, Emily Antenucci, Wendy Weinrich, KT Benevento, Kathryn Meyer, Beth Yanick, Marilyn Bucher, Serena da Conceicao, Kelly Storrs, Megan Byrne, Mark Bernard, Kaia Flavin, Bushra Rehman, Adele Swank, Jinhi Baron, Allison Seigel, Barbara DeSiena, Ryan Jenkins, and members of ReGroup ArtGroup. If you should be listed and are not – we thank you, and please forgive the lapse!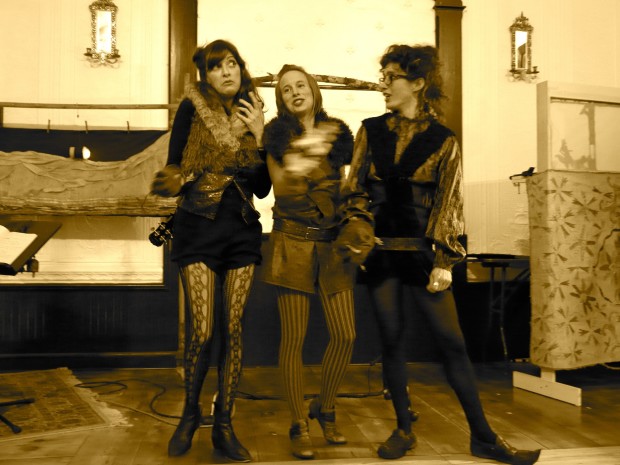 PERFORMANCE HISTORY
October 2016: Premiere @ the Byrdcliffe Theater in Woodstock, NY
A successful whirlwind premiere! Who knew this would turn into a 2-hour-long beloved spectacle?
April 30, 2016 / Café Isegrim @ Drop, Forge & Tool in Hudson, NY 
Another sold-out work-in-progress puppet party to celebrate our uber-productive residency at Drop, Forge & Tool.
October 17, 2015 / Café Isegrim @ the Old Glenford Church in Glenford, NY
Our first collaboration with Mor Pipman in her beautiful space: a sold-out success!
May 30, 31 and June 1, 2014: Seen as part of Labapalooza! at St. Ann's Warehouse, NYC after participating in Puppet Lab, a 9-month development lab for new works of puppet theater. Invaluable to bringing this piece to life.
November 2, 2013: Café Isegrim #2 at private home in Woodstock, NY. Laura joined us for the first time, playing piano and singing as we showed some new scenes. We have a composer! Tapas night on a lake…
June 29, 2013: Café Isegrim #1 at Studio Reynard, Saugerties, NY
March 16, 2013: Studio Reynard Launch Party. We showed a few cardboard shadow chickens and sang snippets of Mozart's Requiem… the tiny beginnings of an epic.