A clipboard lecture that turns into a dance
Created and performed by Hélène Lesterlin
Running time: 70 minutes
A lecture, a dance with memory, a time machine, a dream of utopia. Using creative interviews with village elders and the explosively inspiring archives of the Woodstock Historical Society, this solo performance delves into local lore, wild personal narratives, and the unique stories of the many characters populating Woodstock's art colony heyday.
Woodstock, a village laid out on the flank of Overlook Mountain, became synonymous with Bohemia as artists settled its hillsides in the 1900s in a sweeping effort to create a thriving art colony and utopian community. Roaring through the 20s and beyond, it became known as much for revelry as for art. Through the lens of memory, on a foundation of first-hand accounts, this performance is built on the aspirations, dreams and lives that swirled around the Byrdcliffe and Maverick art colonies.
Using an amalgam of voices, historical accounts and essays, original texts, and dance, this solo illuminates themes of art-making, aging, high jinx, and a rooted sense of place.
Video from premiere

"Overlook" premiere
FEBRUARY 28th, 2015 : 8pm
With an accompanying exhibition "Overlook / Homeward"
Open to the public 12-6pm, FEBRUARY 27th – MARCH 1, 2015
Kleinert/James Center for the Arts, presented by the Woodstock Byrdcliffe Guild
36 Tinker Street, Woodstock NY
Press release
Preview and profile of Lesterlin in Almanac Weekly
"Overlook" work-in-progress performance
AUGUST 30th, 2014 : 7pm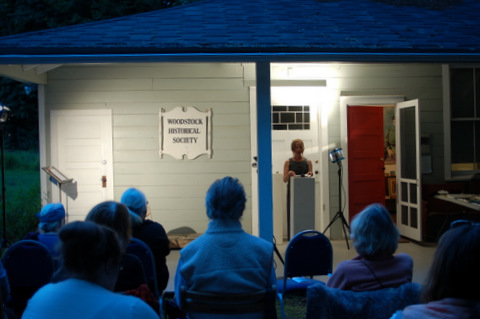 On the porch of the Eames House
Woodstock Historical Society, 20 Comeau Drive, Woodstock, NY
FREE and open to the public
Chair seating is limited, you might want to bring a blanket or lawn chair to sit on!
This project is based on interviews with members of the community, whose memories and stories form the foundation of the text. This project is also made possible with the invaluable expertise and kind attention of the staff and board of the Historical Society of Woodstock, as well as its overwhelmingly rich archive; as well as the support of the Woodstock Byrdcliffe Guild. Special thanks to Richard Heppner, Deborah Heppner, Joann Margolis, Karen Vos, Jean Gaede, Eleanor Steffen, Derin Tanyol, and Eila Kokkinen for their generous help, tireless work and inspiring stories. 
This project is made possible with funds from the Decentralization Program, a regrant program of the New York State Council on the Arts with the support of Governor Andrew Cuomo and the New York State Legislature and administered by Arts Mid-Hudson.
Photos by Letitia Smith