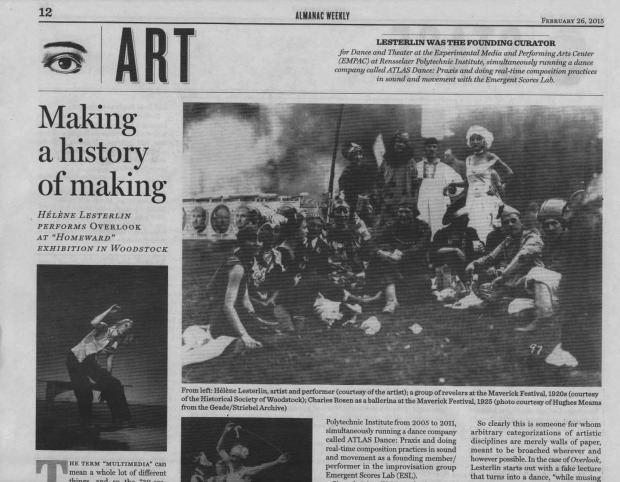 MAKING A HISTORY OF MAKING
Hélène Lesterlin performs Overlook at "Homeward" exhibition in Woodstock
Almanac Weekly, February 26, 2015: by Frances Marion Platt
THE TERM "MULTIMEDIA" can mean a whole lot of different things, and so the "30-second elevator speech" description of a multimedia artist's upcoming event rarely conveys more than a glimmer of what awaits the attendee. Thus it behooves us to know a bit more about interdisciplinary performer Hélène Lesterlin, lest we airily dismiss this weekend's "Overlook/Homeward" exhibition/performance at the Kleinert/James Center for the Arts in Woodstock as navel-gazing by a community that regards itself as the center of the countercultural universe.
True, the specific occasion for the event is the homecoming of 22 works of Woodstock-spawned art from the Woodstock Byrdcliffe Guild's permanent collection that have been on loan to the Samuel Dorsky Museum of Art since 2007, to be placed on public view (the "Homeward" part of the show) for only three days before they go back into storage. And true, Lesterlin describes her solo performance scheduled for this Saturday evening as "taking as inspiration the lives and verbatim words of Woodstock artists from the era of the Maverick Festivals and the founding of the art colonies." But it sounds like the artist/choreographer/curator has the creative chops to interpret the history of Woodstock – which Lesterlin describes as "full of wild characters who embodied major cultural and artistic shifts in the early part of the 20th century with gusto and courage" in ways that we haven't all seen before.
Lesterlin earned an undergraduate degree doing sculpture at Yale and a graduate degree doing dance at Bennington. She was the founding curator for Dance and Theater at the Experimental Media and Performing Arts Center (EMPAC) at Rensselaer Polytechnic Institute from 2005 to 2011, simultaneously running a dance company called ATLAS Dance and doing real-time composition practices in sound and movement as a founding member/performer in the improvisation group Emergent Scores Lab (ESL).
Since leaving EMPAC she has been working independently under the rubric of Studio Reynard, reflecting her interest in French medieval folktales and troubadour ballads (she has done residencies in France as well as Taiwan). Last year her satirical puppet show based on the story cycle of Reynard the Fox, Fox w. Kingdom, was performed in Brooklyn as part of the St. Ann's Warehouse Puppet Lab's Labapalooza festival. And for Wave Farm's summer 2014 Groundswell event at Olana, Lesterlin was commissioned to do a site-specific improvised dance duet, Geographica, whose sound-score incorporated such diverse elements as classical Persian poetry and contemporary radio broadcasts about unrest in the Middle East. As if that weren't enough to keep her busy, last fall she joined the curatorial staff at Mount Tremper Arts.
So clearly this is someone for whom arbitrary categorizations of artistic disciplines are merely walls of paper, meant to be broached wherever and however possible. In the case of OverIook, Lesterlin starts out with a fake lecture that turns into a dance, "while musing on themes of aging, artmaking, Utopia and the magnetic pull of Woodstock on its longtime residents and the popular imagination."
As befits anything calling itself contemporary art, there are elements of interactivity as well. There will be a 7:30 p.m. reception preceding the 8p.m. performance and a question and answer session afterwards. Visitors to "Homeward" – co-curated by Lesterlin and Derin Tanyol of the Woodstock Byrdcliffe Guild, using materials from the archives of the Historical Society of Woodstock as well as Byrdcliffe – will be invited to contribute to a visual installation and audio station designed by Lesterlin, and she plans to be on hand to chat (and take notes) throughout much of the exhibition's three-day run.